BRAND
Tricovel®
Tricovel® by Giuliani: the best of  Trichological Research
Specialist hair care line
The result of Giuliani's intense research in the trichological field, Tricovel® is a specialist hair care line featuring patented active ingredients and high-quality substances, useful for ensuring the correct physiology of the hair. Giuliani's Tricovel® Line includes two dietary supplements, a shampoo, a spray lotion and two PRP Plus products, regrowth gel and bald spot gel.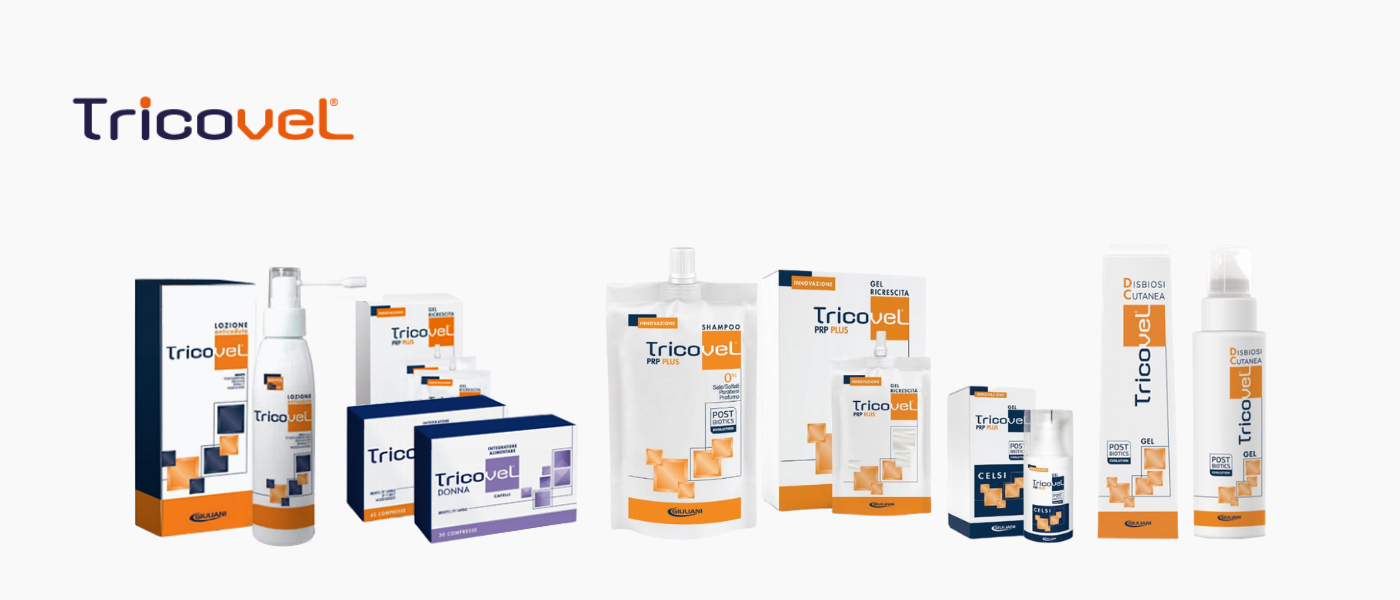 The Tricovel® Dietary Supplement in prolonged-release tablet form provides the ideal physiological support in cases of increased need for nutrients. The beneficial effect exerted on the hair from within by Tricovel® tablets is due to a composition based on 3 active ingredients, the use of which has been patented by Giuliani: Spermidina, Ajuga Reptans titrated in phenylpropanoids which has an effect on the trophism of skin and skin appendages and a combination of fatty acids from the omega-6, omega-9 and Rutin series – Giuliani patent.
The formulation of the Tricovel® Biotin supplement, useful for keeping hair in good condition, is completed with copper and zinc, useful for protecting from oxidative stress, and arginine. The gradual and prolonged release technology optimises the absorption of the active ingredients.
Giuliani's trichological line also includes the Tricovel® dietary supplement for women, specifically formulated for women's hair health. It contains spermidine, closely related to normal follicle operation, vitamins such as biotin, folic acid and vitamin B6, minerals such as copper and zinc and bioflavonoids such as rutin and resveratrol, which help provide a predefined supply of nutrients with a physiological effect.
The line also includes a high-quality cosmetic treatment, Tricovel® spray lotion, containing methylspermidine and resveratrol, which support the functions of the hair follicle, and sandalore, an odorous molecule capable of promoting the correct production and function of keratinocytes, thus prolonging the anagen phase.
To strengthen and gently cleanse brittle hair that is prone to falling out, the specialist line includes Tricovel® PRP plus shampoo which, thanks to its formula containing a special blend of postbiotic enzymes, is able to maintain the balance of the scalp microbiome by contributing to the physiological state of health.
New to the line are the Tricovel® PRP plus topical gel, an innovative formula based on biomimetic peptides, and the Tricovel® PRP plus bald spot gel, useful for treating some forms of hair loss that affect the hair follicles on the scalp and other parts of the body. The latest arrival in the line is Tricovel® DC gel, suitable for all skin and scalp conditions characterised by a dysbiosis of the microbiome.