BRAND
Celegyn®
Triple-acting vaginal cream containing hyaluronic acid and enriched with ingredients of vegetable origin.
Celegyn is a cream to repair the vulvo-vaginal area with a soothing effect.
Thanks to its specific formulation, it is triple acting:
REPAIRS. It promotes the repair processes of microlesions and wounds of the vulvo-vaginal epithelium.
MOISTURISES. It supplies the tissues with the right amount of water, helping to alleviate intimate disorders such as vaginal dryness, itching, irritation or inflammation.
PROTECTS. It improves the elasticity and tone of vaginal tissues and helps restore a moist, lubricated environment.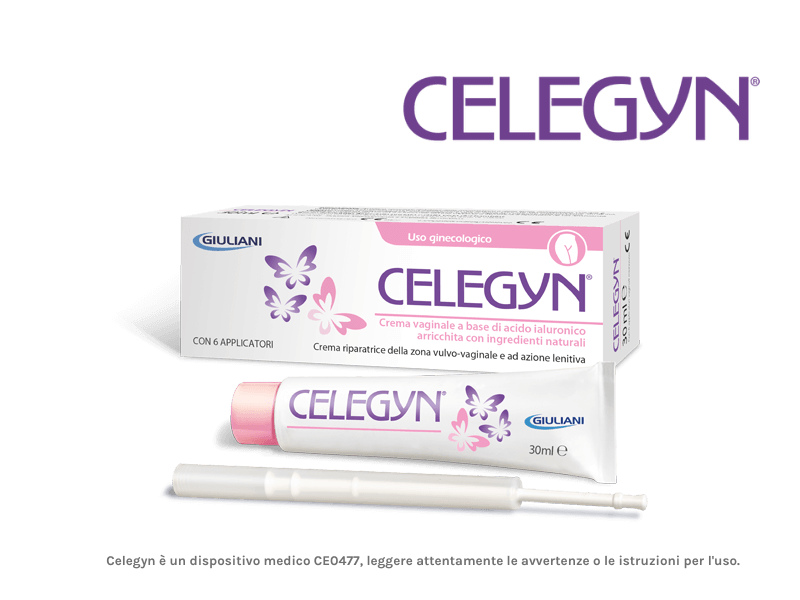 Celegyn is a cream formulation with moisturising and lubricating properties that respects the skin and the vaginal mucosa:
suitable for all women, from childbearing age to menopause
oestrogen-free
enriched with beta-glucan, sericin, glycerophosphoinositol, alpha-bisabolol, sweet
almond oil
fragrance- and paraben-free
non-greasy
pH 4.5-5
nickel-tested (below 1 PPM)
In women, these symptoms are often associated with an atrophic condition i.e. a progressive change in the structure of the vulvo-vaginal mucosa: the surface and walls become thinner, more fragile, less lubricated and may be cracked. It is therefore important to help restore mucosal integrity, both to improve symptoms and to prevent infections, which are often recurrent in the presence of microlesions or wounds.
These kinds of intimate discomfort can be caused by a variety of things.
Oestrogen deficiency:
. during the menopause;
. after childbirth and while breastfeeding;
. associated with stressful situations;
. due to the absence of the menstrual cycle;
. due to particular pharmacological treatments (birth control pills taken for long periods, cancer treatment etc.).
Certain medical conditions (Lichen sclerosus or diabetes).
Surgical treatments (physical treatments).
Incorrect intimate hygiene (excessive or poor).
All of these conditions can contribute to an alteration of the vaginal mucosa, which is
characterised by poor moisture levels, the presence of microlesions and inflammation.
How to use
Internal use
Application is recommended using the special cannula, preferably in the evening.
Depending on the severity of the disorder, the following is recommended:
intensive treatment once a day for at least 6 days;
cyclical treatment (preventive or maintenance) every other day or as needed.
Before application, wash the affected area thoroughly.
External use
Apply as needed. Use can be repeated and continued over time.
Before application, wash the affected area thoroughly.