BRAND
Trosyd®
Attentive to people's different needs, Giuliani has created Trosyd® products, a targeted line for nail and skin care. From Giuliani Research and Trosyd®'s expertise on nail problems: Trosyd® Active, a food supplement based on specifically selected nutrients that from within to contribute to the well-being of the nails in all cases of alterations. DISCOVER THE NEWS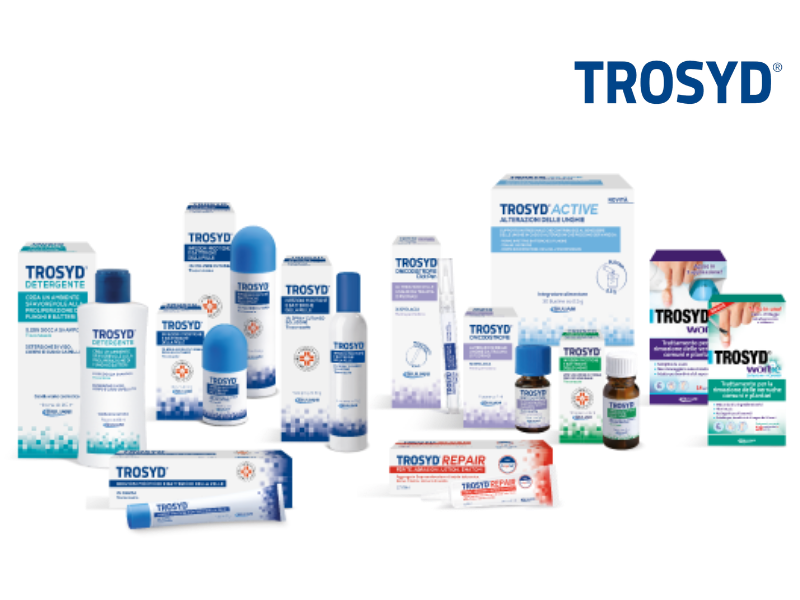 Trosyd® from Giuliani: research at the service of skin and nails

Promoting nail health and supporting skin balance: to achieve these goals and thus contribute to personal wellbeing, Trosyd® is launched, a line of Giuliani brand products specifically for treating problems that can affect nails and skin.
Trauma, genetics, particular physical conditions or specific disorders can lead to skin and nail mycosis and infections – ailments which, in addition to being an aesthetic problem, can also cause discomfort and pain.
Trosyd®  includes products suitable for ailments affecting toenails and fingernails such as onychomycosis, onychodystrophy and onychopsoriasis, as well as a range of targeted treatments for the most common skin infections, such as mycosis and verrucas.
In 2020, Giuliani entered a new market, skin repair, with the specific Trosyd® Repair product for wounds, oedemas and haematomas, with a moisturising effect that promotes tissue healing and helps reduce the risk of scarring.
Trosyd® treatments, which include over-the-counter products and CE Medical Devices, represent a useful remedy for these problems. Consult the different sections of the site to learn about, treat and prevent ailments that can affect skin and nails, and check out the Trosyd® products suitable for dealing with them.
Trosyd 1% cream, emulsion, powder, spray and Trosyd 28% nail solution are over-the-counter products. Read the information leaflet carefully.
MP C 04/20 – Health Min. Auth. OTC of 18/01/2021